► Hear "A Rising and Setting Sun: On the Appearance of an Angry God"
Spiritual Message by Dr. Rebecca Esterson, March 26, 2017
Scripture readings: Psalm 80, Matthew 18:21-35
Swedenborg was harshly critiqued by his contemporaries for his suggestion that God is never angry and never punishes. This position came with profound theological implications, and some eighteenth century theologians couldn't reconcile this view with the biblical accounts of an angry God in both the Old and New Testaments. We will take up this interpretive challenge, and consider the possibility of a God who is "absolute love, absolute mercy, and absolute goodness" in light of key passages from scripture, and in light of our own desire for divine justice in the affairs of the world today.
---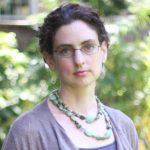 Rebecca Esterson is a faculty member of the Center for Swedenborgian Studies. She received her Ph.D. at the Graduate Division of Religious Studies at Boston University working in the Texts and Traditions track. She earned her Masters of Theological Studies in 2002 from Harvard Divinity School with a focus in world religions, and also studied at Hebrew University in Jerusalem as a visiting graduate student in 2000-01. After receiving her masters degree, she worked at Harvard's Center for the Study of World Religions for 9 years where she was able to further develop her interest in comparative studies and interfaith learning.
Dr. Esterson's research interests include: the history of biblical interpretation, hermeneutics, Jewish and Christian mysticism, Jewish-Christian relations, eighteenth century intellectual culture, Christian Hebraism, comparative religious studies. Her dissertation demonstrates, via the example of Emanuel Swedenborg, the persistence of biblical allegory in eighteenth century Christian thought, and its entanglement with both the developments of the scientific revolution and the figured discourse of Jewish and Christian religious identity