Though we've said goodbye to our former music director Joantahn Dimmock, we are excited to welcome new and familiar faces and voices into our music program. The coming year will be a time of experimentation to find what kind of music, both in sound and structure, is most suitable for our worship services. With leadership from Rev. Lee, Heather Garland – who you will recognize from our virtual services – will be acting as our song leader and soloist along with a variety of guest musicians. We would also like to encourage members and friends to participate in this period of congregationally-led worship music. If you are interested in singing as part of a choir, playing an instrument, or have a song or hymn suggestions, please reach out to us!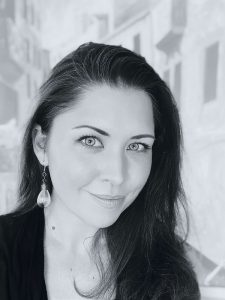 Meanwhile, we are pleased to formally introduce Heather:
Mezzo-soprano Heather Garland is an artist, actor, writer, wine scholar, melanoma advocate, and full-time chaser of significance living in San Francisco, with roots in the rivers of Ohio and the mountains of Appalachia. She grew up steeped in her parents' music ministry, but only started pursuing her own musicianship and spiritual service a few years ago when, in 2015, she left her career as a Bay Area fine dining sommelier to study voice in her father's studio in East Tennessee. For her, the opportunity to devote her voice to the matter and mystery of faith is the fulfillment of a long artistic legacy, and she is deeply grateful to Junchol and the SF Swedenborgian congregation for entrusting her with this blessing.